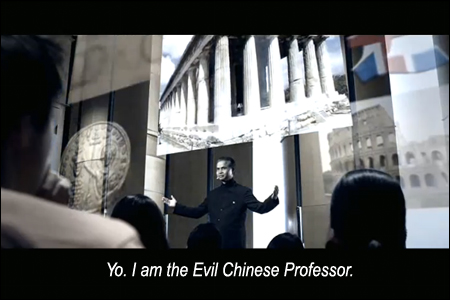 Since we recently announced Volume 2 would be dedicated to shattering Asian stereotypes, it only makes sense to point you all to a brand new Asian stereotype just in time for the midterm elections, thanks to the right-wing "think" tank Citizens Against Government Waste: the Evil Chinese Professor!
Well, now it's our turn to reclaim Professor Evil. A few Asian Am blogs–Angry Asian Man, 8Asians, Disgrasian, Reappropriate, channelAPA, and Hyphen–have gotten together to sponsor this contest.
Basically:
Download the .ZIP archive, including the subtitle-stripped .MOV file and .RTF text file transcript of the original "Chinese Professor" video.
Get the video file, write a hilarious alternate monologue for the Evil Chinese Professor, re-subtitle the footage, add a call-to-action voiceover at the end, and upload your parody to a video sharing service like YouTube or Vimeo (Heck, upload wherever you can. CAGW is apparently cracking down on all parodies).
Then send the link to evilchineseprofessor@angryasianman.com. The best three videos as judged by the sponsoring bloggers will win some fabulous as-yet-undetermined prizes. The deadline to submit is November 27, which happens to be Bruce Lee's birthday.